The BrCa dataset is composed of the activities of compounds assayed on 9 breast cancer cell lines in all ChEMBL DB assays. In this case, for analysis purposes, all cancer data rows have been removed from the master dataset but Breast cancer average potency and flags for each assayed compound have been appended as separate columns to configure class descriptors.
In this section we will use the BrCa experiments stored in the ChEMBL DB to validate a predictive model that allows prediction of BrCa activity for the 1.5M unique molecules with 13M activity records in te DB focusing on molecules that are actually prescription drugs.
About 3k among the 1.5M annotated molecules with activity records in the ChEMBL DB are prescription drugs. For some of them, there is a record of activity on BrCa cell line experiments, but for the most that don't have any, there is a predicted score. The variable BrCaScore contains the actual score if it exists, but the predicted one if it doesn't. These scores have a -log(molar potency) scale.
Applying the dashboard based selection methods described in the prediction of BrCa activity section upon prescription drugs we have created unique drug target pairs with average scores per pair: the already described BrCaScore and the chemblScore which shows the effect that the molecule average score for each particular target.
The graph below shows BrCaScore vs chemblScore. Marked dots are displayed on the right side showing the targets where the drugs have an activity record,  and the value, in bars of their potency at target compared to the potency inhibiting BrCa cell lines growth. There is also a 3rd blue bar showing the predicted cytotoxicity from the cytotox prediction section. Left chart is splitted in three boxes, depending on the drugs have indications for breast cancer, any indication for tumor treatment, or lack of any indication for tumoral diseases. For repurposing, we will focus on the 3rd group. Marked dots are those of the highest potency in the two scores.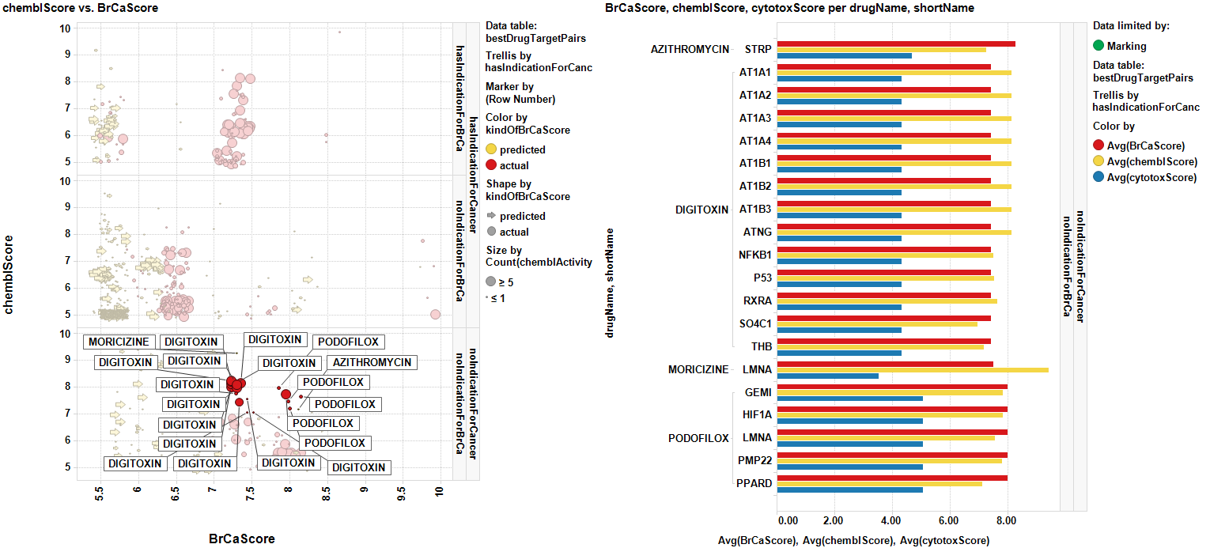 And here, most potent at target and a score >6 for BrCa…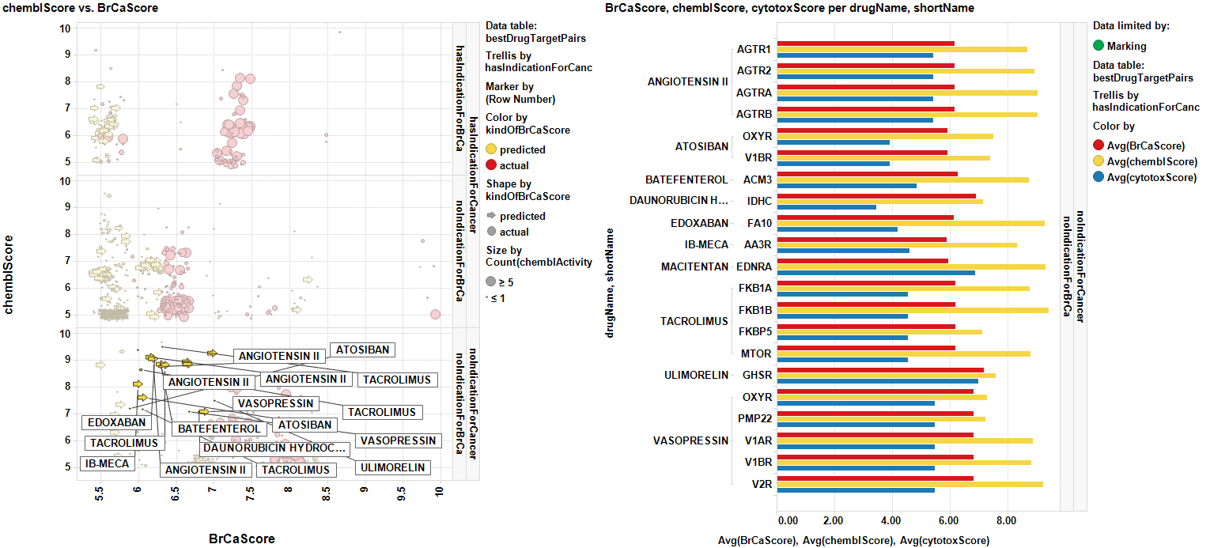 Below, most potent at BrCa and a score >6 for each target…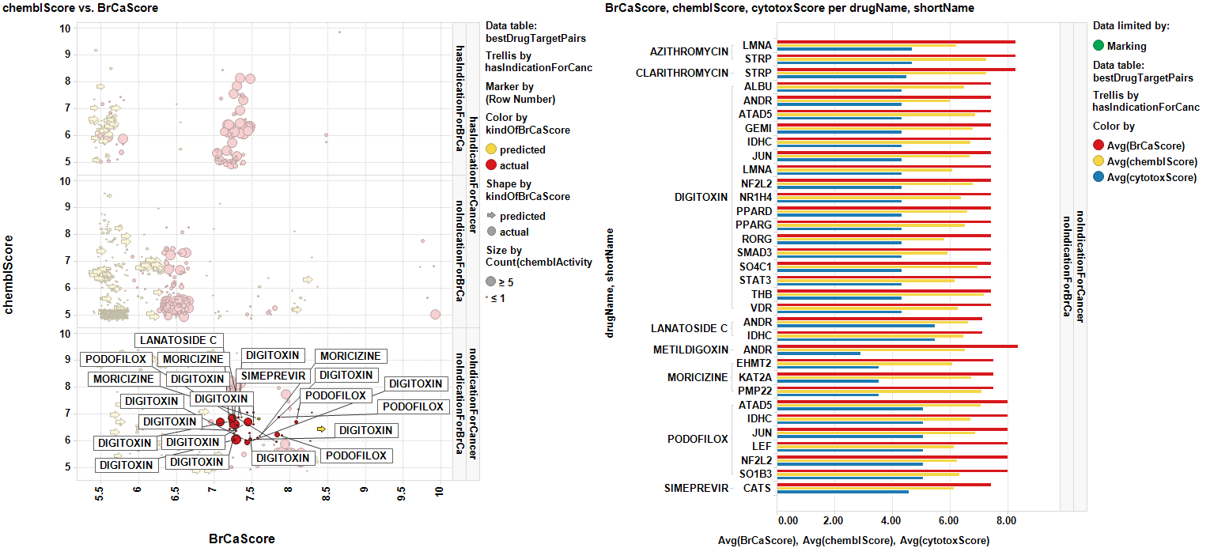 Finally, we can look at this treemap showing the clinical phase achieved by the drugs, current indications, published MoAs and colored by their potency inhibiting BrCa cell lines growth.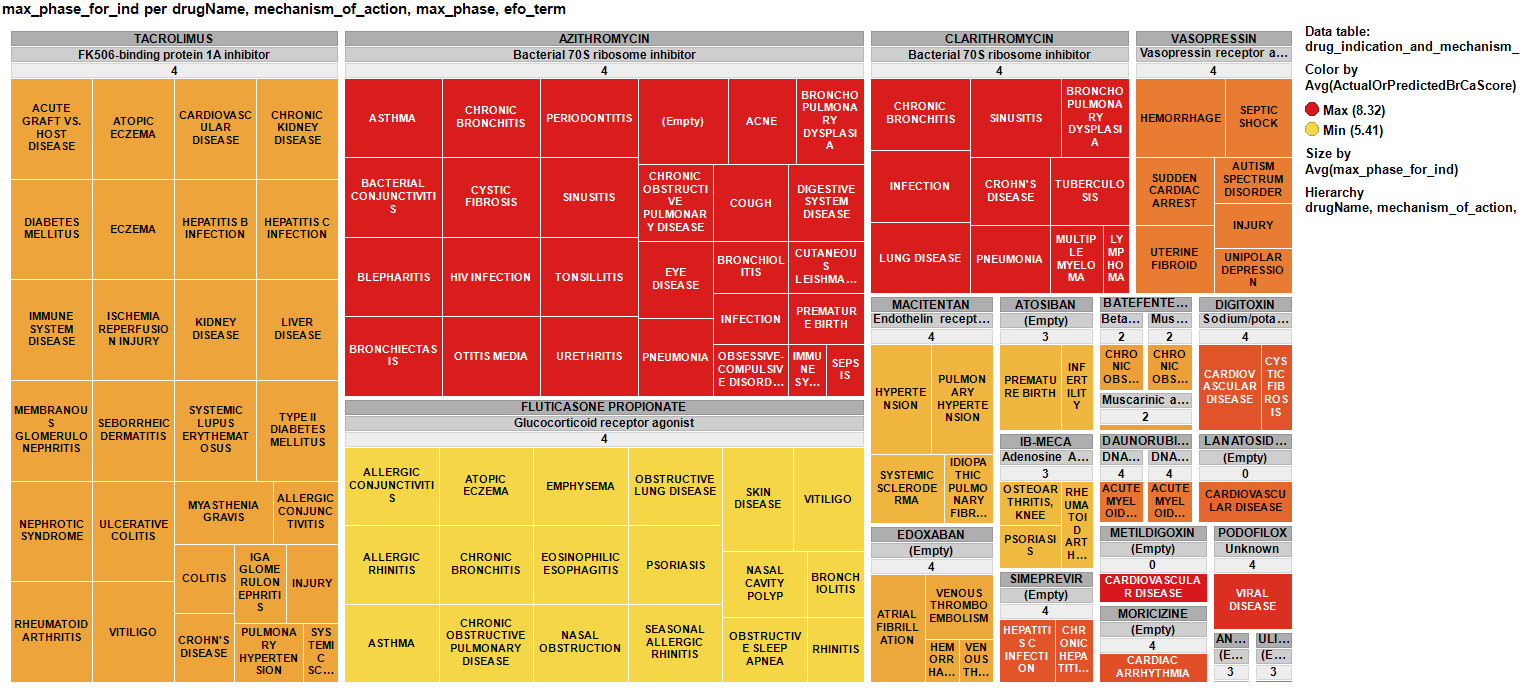 BrCa is one of the most investigated diseases, so it should not be weird to find literature references that associate some of these drugs toBrCa, as it can be seen in the table below.
Even more interesting, the drugs have activity records for several targets, and mos of them count with literature references that associate them to BrCa.
| | | | | | | | |
| --- | --- | --- | --- | --- | --- | --- | --- |
| drugName | reportedMoAs | chemblProteinName | RefLink | chemblProteinScore | ActualOrPredictedBrCaScore | kindOfBrCaScore | CytotoxCombinedPrediction |
| FLUTICASONE PROPIONATE | Glucocorticoid receptor agonist | Glucocorticoid receptor | Targeting the glucocorticoid receptor in breast and prostate cancers … | 8.849376456 | 5.4112375 | predicted | 5.042538366 |
| IB-MECA | Adenosine A3 receptor agonist | Adenosine A1 receptor | The effect of adenosine A1 receptor agonist and antagonist on p53 … | 7.47375 | 5.851600576 | predicted | 4.586526533 |
| IB-MECA | Adenosine A3 receptor agonist | Adenosine A3 receptor |  Chung H, et al. The antitumor effect of LJ-529, a novel agonist to A3 adenosine receptor, in both estrogen receptor-positive and estrogen receptor-negative human breast cancers. Mol. Cancer. Ther. 2006;5:685–692. [PubMed] | 8.300382884 | 5.851600576 | predicted | 4.586526533 |
| ATOSIBAN | Oxytocin receptor antagonist | DNA-(apurinic or apyrimidinic site) lyase | Extreme Expression of DNA Repair Protein Apurinic/Apyrimidinic … | 7.698970004 | 5.885625 | predicted | 3.904320422 |
| ATOSIBAN | Oxytocin receptor antagonist | Oxytocin receptor | The Oxytocin Receptor Antagonist Atosiban Inhibits Cell Growth via a … | 7.478 | 5.885625 | predicted | 3.904320422 |
| ATOSIBAN | Oxytocin receptor antagonist | Vasopressin V1a receptor | Effects of Angiotensin, Vasopressin and Aldosterone on Proliferation … | 9.116666667 | 5.885625 | predicted | 3.904320422 |
| ATOSIBAN | Oxytocin receptor antagonist | Vasopressin V1b receptor | Effects of Angiotensin, Vasopressin and Aldosterone on Proliferation … | 7.36 | 5.885625 | predicted | 3.904320422 |
| MACITENTAN | Endothelin receptor, ET-A/ET-B antagonist | Endothelin receptor ET-A | Treatment of experimental human breast cancer and lung … – NCBI – NIH | 9.3 | 5.923261161 | predicted | 6.857279006 |
| EDOXABAN | | Coagulation factor X | Formation of tissue factor-factor VIIa-factor Xa complex prevents apoptosis in human breast cancer cells. | 9.25 | 6.112388393 | predicted | 4.170271366 |
| ANGIOTENSIN II | Angiotensin II receptor agonist | Angiotensin II receptor | Angiotensin II Facilitates Breast Cancer Cell Migration and Metastasis | 8.906818182 | 6.131783765 | predicted | 5.400161733 |
| TACROLIMUS | FK506-binding protein 1A inhibitor/Calcineurin inhibitor | FK506-binding protein 1A | The Calcineurin Inhibitor Tacrolimus Inhibits Breast Tumor Growth In … | 8.727142857 | 6.175169643 | predicted | 4.513259152 |
| TACROLIMUS | FK506-binding protein 1A inhibitor/Calcineurin inhibitor | FK506-binding protein 1B | The Calcineurin Inhibitor Tacrolimus Inhibits Breast Tumor Growth In … | 9.4 | 6.175169643 | predicted | 4.513259152 |
| TACROLIMUS | FK506-binding protein 1A inhibitor/Calcineurin inhibitor | Peptidyl-prolyl cis-trans isomerase FKBP5 | The role of FKBP5 in cancer aetiology and chemoresistance | 7.1 | 6.175169643 | predicted | 4.513259152 |
| TACROLIMUS | FK506-binding protein 1A inhibitor/Calcineurin inhibitor | Serine/threonine-protein kinase mTOR | New targets for therapy in breast cancer: mammalian target of rapamycin | 8.76 | 6.175169643 | predicted | 4.513259152 |
| BATEFENTEROL | Beta-2 adrenergic receptor agonist, Muscarinic acetylcholine receptor M2 antagonist, Muscarinic acetylcholine receptor M3 antagonist | Beta-2 adrenergic receptor | β 2 -Adrenergic Receptor Agonists Inhibit the Proliferation of 1321N1 … | 9.6 | 6.237205357 | predicted | 4.819267444 |
| BATEFENTEROL | Beta-2 adrenergic receptor agonist, Muscarinic acetylcholine receptor M2 antagonist, Muscarinic acetylcholine receptor M3 antagonist | Muscarinic acetylcholine receptor M3 | Muscarinic Receptor Agonists and Antagonists: Effects on Cancer | 8.7 | 6.237205357 | predicted | 4.819267444 |
| VASOPRESSIN | Vasopressin receptor agonist | Oxytocin receptor | The Oxytocin Receptor Antagonist Atosiban Inhibits Cell Growth via a … | 7.249908608 | 6.795507674 | predicted | 5.450990369 |
| VASOPRESSIN | Vasopressin receptor agonist | Peripheral myelin protein 22 | Identification of molecular markers for metastasis-related genes in … | 7.192464972 | 6.795507674 | predicted | 5.450990369 |
| VASOPRESSIN | Vasopressin receptor agonist | Vasopressin V1a receptor | Effects of Angiotensin, Vasopressin and Aldosterone on Proliferation … | 8.8604 | 6.795507674 | predicted | 5.450990369 |
| VASOPRESSIN | Vasopressin receptor agonist | Vasopressin V1b receptor | Effects of Angiotensin, Vasopressin and Aldosterone on Proliferation … | 8.80201944 | 6.795507674 | predicted | 5.450990369 |
| VASOPRESSIN | Vasopressin receptor agonist | Vasopressin V2 receptor | Effects of Angiotensin, Vasopressin and Aldosterone on Proliferation … | 9.208746573 | 6.795507674 | predicted | 5.450990369 |
| DAUNORUBICIN HYDROCHLORIDE | DNA inhibitor, DNA topoisomerase II alpha inhibitor | Isocitrate dehydrogenase [NADP] cytoplasmic | Human DNA topoisomerase II-alpha: A new … – ScienceDirect.com | 7.136082623 | 6.881199616 | predicted | 3.424770902 |
| LANATOSIDE C | | Geminin | Spotlight on Geminin | Breast Cancer Research | Full Text | 6.236174637 | 7.08825 | actual | 5.444662098 |
| LANATOSIDE C | | Mothers against decapentaplegic homolog 3 | Mothers against decapentaplegic homolog 3 – Wikipedia | 5.850011544 | 7.08825 | actual | 5.444662098 |
| LANATOSIDE C | | Nuclear factor erythroid 2-related factor 2 | Perspectives of the Nrf-2 signaling pathway in cancer progression and … | 6.786135376 | 7.08825 | actual | 5.444662098 |
| LANATOSIDE C | | Nuclear receptor ROR-gamma | Nuclear Receptor ROR Gamma Market: Production, Revenue, Industry … | 5.15 | 7.08825 | actual | 5.444662098 |
| ULIMORELIN | Ghrelin agonist | Ghrelin receptor | Ghrelin receptor agonists as novel breast cancer therapeutics – Figshare | 7.57 | 7.1380625 | predicted | 6.961990852 |
| DIGITOXIN | Sodium/potassium-transporting ATPase inhibitor | Androgen Receptor | Targeting the Androgen Receptor in Breast Cancer – The ASCO Post | 5.961823919 | 7.398125 | actual | 4.314638489 |
| DIGITOXIN | Sodium/potassium-transporting ATPase inhibitor | ATPase family AAA domain-containing protein 5 | Sodium/potassium ATPase (Na+, K+-ATPase) and ouabain/related … | 6.836242476 | 7.398125 | actual | 4.314638489 |
| DIGITOXIN | Sodium/potassium-transporting ATPase inhibitor | Bile acid receptor FXR | The farnesoid X receptor is expressed in breast cancer and regulates … | 6.349984048 | 7.398125 | actual | 4.314638489 |
| DIGITOXIN | Sodium/potassium-transporting ATPase inhibitor | Cellular tumor antigen p53 | The Role of the p53 Tumour Suppressor Gene in Human Breast Cancer | 7.5 | 7.398125 | actual | 4.314638489 |
| DIGITOXIN | Sodium/potassium-transporting ATPase inhibitor | DNA topoisomerase II beta | Topoisomerases II alpha and beta as therapy targets in breast cancer … | 5 | 7.398125 | actual | 4.314638489 |
| DIGITOXIN | Sodium/potassium-transporting ATPase inhibitor | Geminin | Spotlight on Geminin | Breast Cancer Research | Full Text | 6.755689089 | 7.398125 | actual | 4.314638489 |
| DIGITOXIN | Sodium/potassium-transporting ATPase inhibitor | Isocitrate dehydrogenase [NADP] cytoplasmic | Isocitrate dehydrogenases in physiology and cancer: biochemical and … | 6.68613278 | 7.398125 | actual | 4.314638489 |
| DIGITOXIN | Sodium/potassium-transporting ATPase inhibitor | Microtubule-associated protein tau | Microtubule-associated protein tau: A marker of paclitaxel … – NCBI – NIH | 5 | 7.398125 | actual | 4.314638489 |
| DIGITOXIN | Sodium/potassium-transporting ATPase inhibitor | Mothers against decapentaplegic homolog 3 | Mothers against decapentaplegic homolog 3 – Wikipedia | 5.900008766 | 7.398125 | actual | 4.314638489 |
| DIGITOXIN | Sodium/potassium-transporting ATPase inhibitor | Nuclear factor erythroid 2-related factor 2 | Perspectives of the Nrf-2 signaling pathway in cancer progression and … | 6.758747049 | 7.398125 | actual | 4.314638489 |
| DIGITOXIN | Sodium/potassium-transporting ATPase inhibitor | Nuclear factor NF-kappa-B p105 subunit | NF-kappa B genes have a major role in Inflammatory Breast Cancer … | 7.488835312 | 7.398125 | actual | 4.314638489 |
| DIGITOXIN | Sodium/potassium-transporting ATPase inhibitor | Peripheral myelin protein 22 | Identification of molecular markers for metastasis-related genes in … | 4.992188234 | 7.398125 | actual | 4.314638489 |
| DIGITOXIN | Sodium/potassium-transporting ATPase inhibitor | Peroxisome proliferator-activated receptor delta | A novel peroxisome proliferator-activated receptor delta … – NCBI | 6.571489509 | 7.398125 | actual | 4.314638489 |
| DIGITOXIN | Sodium/potassium-transporting ATPase inhibitor | Peroxisome proliferator-activated receptor gamma | The role of peroxisome proliferator-activated receptor-γ in breast cancer. | 6.500038134 | 7.398125 | actual | 4.314638489 |
| DIGITOXIN | Sodium/potassium-transporting ATPase inhibitor | Prelamin-A/C | The clinicopathological significance of lamin A/C, lamin B1 and lamin … | 6.05 | 7.398125 | actual | 4.314638489 |
| DIGITOXIN | Sodium/potassium-transporting ATPase inhibitor | Proto-oncogene c-JUN | c-Jun Induces Mammary Epithelial Cellular Invasion and Breast … | 6.664221565 | 7.398125 | actual | 4.314638489 |
| DIGITOXIN | Sodium/potassium-transporting ATPase inhibitor | Retinoid X receptor alpha | A retinoid X receptor (RXR)-selective retinoid reveals that RXR-alpha … | 7.62503913 | 7.398125 | actual | 4.314638489 |
| DIGITOXIN | Sodium/potassium-transporting ATPase inhibitor | Serum albumin | Serum albumin as a modulator on growth of the human breast cancer … | 6.453498209 | 7.398125 | actual | 4.314638489 |
| DIGITOXIN | Sodium/potassium-transporting ATPase inhibitor | Signal transducer and activator of transcription 3 | Signal transducer and activator of transcription-3 and breast cancer … | 6.15 | 7.398125 | actual | 4.314638489 |
| DIGITOXIN | Sodium/potassium-transporting ATPase inhibitor | Sodium/potassium-transporting ATPase | Sodium/potassium ATPase (Na+, K+-ATPase) and ouabain/related … | 8.1 | 7.398125 | actual | 4.314638489 |
| DIGITOXIN | Sodium/potassium-transporting ATPase inhibitor | Solute carrier organic anion transporter family member 1B1 | Tumor-Specific Expression of Organic Anion-Transporting – Hindawi | 5.113249546 | 7.398125 | actual | 4.314638489 |
| DIGITOXIN | Sodium/potassium-transporting ATPase inhibitor | Solute carrier organic anion transporter family member 1B3 | Tumor-Specific Expression of Organic Anion-Transporting – Hindawi | 5.304539675 | 7.398125 | actual | 4.314638489 |
| DIGITOXIN | Sodium/potassium-transporting ATPase inhibitor | Solute carrier organic anion transporter family member 4C1 | Tumor-Specific Expression of Organic Anion-Transporting – Hindawi | 6.92 | 7.398125 | actual | 4.314638489 |
| DIGITOXIN | Sodium/potassium-transporting ATPase inhibitor | Thyroid hormone receptor beta-1 | Targeting Thyroid Hormone Receptor Beta in Triple Negative Breast … | 7.149966742 | 7.398125 | actual | 4.314638489 |
| DIGITOXIN | Sodium/potassium-transporting ATPase inhibitor | Vitamin D receptor | Vitamin D receptor as a target for breast cancer therapy. – NCBI | 6.250031916 | 7.398125 | actual | 4.314638489 |
| SIMEPREVIR | NS3/4A Protease Inhibitor | Cathepsin S | Cathepsin S Mediates Brain-Specific Breast Cancer Metastasis … | 6.1 | 7.40790625 | predicted | 4.549179982 |
| MORICIZINE | | Glucagon-like peptide 1 receptor | Glucagon-like peptide-1 receptor agonists and risk of breast cancer. | 5.099999035 | 7.481649319 | predicted | 3.501628141 |
| MORICIZINE | | Histone acetyltransferase GCN5 | Histone acetyltransferase inhibitors block neuroblastoma cell growth … | 6.7000571 | 7.481649319 | predicted | 3.501628141 |
| MORICIZINE | | Histone-lysine N-methyltransferase, H3 lysine-9 specific 3 | Histone lysine methyltransferases as anti-cancer targets for drug … | 6.049976093 | 7.481649319 | predicted | 3.501628141 |
| MORICIZINE | | Hypoxia-inducible factor 1 alpha | Hypoxia-inducible factor 1 and breast cancer metastasis – NCBI – NIH | 5.8 | 7.481649319 | predicted | 3.501628141 |
| MORICIZINE | | Peripheral myelin protein 22 | Identification of molecular markers for metastasis-related genes in … | 7.060480747 | 7.481649319 | predicted | 3.501628141 |
| MORICIZINE | | Prelamin-A/C | The clinicopathological significance of lamin A/C, lamin B1 and lamin … | 9.397940009 | 7.481649319 | predicted | 3.501628141 |
| PODOFILOX | Unknown | Androgen Receptor | Targeting the Androgen Receptor in Breast Cancer – The ASCO Post | 5.413058858 | 7.967625 | actual | 5.031382053 |
| PODOFILOX | Unknown | ATPase family AAA domain-containing protein 5 | ATAD5 ATPase family, AAA domain containing 5 [ (human)] – NCBI | 7.036212173 | 7.967625 | actual | 5.031382053 |
| PODOFILOX | Unknown | Cytochrome P450 2C19 | CYP2C19*17 is associated with decreased breast cancer risk. – NCBI | 5.3 | 7.967625 | actual | 5.031382053 |
| PODOFILOX | Unknown | Cytochrome P450 2C9 | Tamoxifen inhibits cytochrome P450 2C9 activity: A possible … | 5.4 | 7.967625 | actual | 5.031382053 |
| PODOFILOX | Unknown | DNA-(apurinic or apyrimidinic site) lyase | Extreme Expression of DNA Repair Protein Apurinic/Apyrimidinic … | 5.950007143 | 7.967625 | actual | 5.031382053 |
| PODOFILOX | Unknown | Geminin | Spotlight on Geminin | Breast Cancer Research | Full Text | 7.816272425 | 7.967625 | actual | 5.031382053 |
| PODOFILOX | Unknown | Hypoxia-inducible factor 1 alpha | Hypoxia-inducible factor 1 and breast cancer metastasis – NCBI – NIH | 7.8 | 7.967625 | actual | 5.031382053 |
| PODOFILOX | Unknown | Isocitrate dehydrogenase [NADP] cytoplasmic | Isocitrate dehydrogenases in physiology and cancer: biochemical and … | 6.68613278 | 7.967625 | actual | 5.031382053 |
| PODOFILOX | Unknown | Nuclear factor erythroid 2-related factor 2 | Perspectives of the Nrf-2 signaling pathway in cancer progression and … | 6.215896349 | 7.967625 | actual | 5.031382053 |
| PODOFILOX | Unknown | Nuclear receptor subfamily 0 group B member 1 | noRefFound | 5.67 | 7.967625 | actual | 5.031382053 |
| PODOFILOX | Unknown | Peripheral myelin protein 22 | Identification of molecular markers for metastasis-related genes in … | 7.771271006 | 7.967625 | actual | 5.031382053 |
| PODOFILOX | Unknown | Peroxisome proliferator-activated receptor delta | A novel peroxisome proliferator-activated receptor delta … – NCBI | 7.092246988 | 7.967625 | actual | 5.031382053 |
| PODOFILOX | Unknown | Prelamin-A/C | The clinicopathological significance of lamin A/C, lamin B1 and lamin … | 7.525 | 7.967625 | actual | 5.031382053 |
| PODOFILOX | Unknown | Proto-oncogene c-JUN | c-Jun activation is associated with proliferation and angiogenesis in … | 6.84075338 | 7.967625 | actual | 5.031382053 |
| PODOFILOX | Unknown | Solute carrier organic anion transporter family member 1B1 | Sodium/potassium ATPase (Na+, K+-ATPase) and ouabain/related … | 5.247460693 | 7.967625 | actual | 5.031382053 |
| PODOFILOX | Unknown | Solute carrier organic anion transporter family member 1B3 | noRefFound | 6.296222689 | 7.967625 | actual | 5.031382053 |
| PODOFILOX | Unknown | Tubulin | Tubulin protein: MCF-7 cancer cell – Cytoskeleton, Inc. | 5.502602119 | 7.967625 | actual | 5.031382053 |
| CLARITHROMYCIN | Bacterial 70S ribosome inhibitor | Solute carrier organic anion transporter family member 1B1 | Lee E, Luo J, Su Y-C, Lewinger JP, Schumacher FR, et al. (2014) Hormone metabolism pathway genes and mammographic density change after quitting estrogen and progestin combined hormone therapy in the California Teachers Study. Breast Cancer Research 16: 477. go to article | 5.353893659 | 8.242964275 | predicted | 4.461185566 |
| CLARITHROMYCIN | Bacterial 70S ribosome inhibitor | Solute carrier organic anion transporter family member 1B3 | Uptake transporter organic anion transporting polypeptide 1B3 … – NCBI | 5.38706858 | 8.242964275 | predicted | 4.461185566 |
| AZITHROMYCIN | Bacterial 70S ribosome inhibitor | Geminin | Spotlight on Geminin | Breast Cancer Research | Full Text | 5.399129213 | 8.247836908 | predicted | 4.66093881 |
| AZITHROMYCIN | Bacterial 70S ribosome inhibitor | Isocitrate dehydrogenase [NADP] cytoplasmic | Isocitrate dehydrogenases in physiology and cancer: biochemical and … | 5.236212739 | 8.247836908 | predicted | 4.66093881 |
| AZITHROMYCIN | Bacterial 70S ribosome inhibitor | Prelamin-A/C | The clinicopathological significance of lamin A/C, lamin B1 and lamin … | 6.2 | 8.247836908 | predicted | 4.66093881 |
| AZITHROMYCIN | Bacterial 70S ribosome inhibitor | Retinoid X receptor alpha | A retinoid X receptor (RXR)-selective retinoid reveals that RXR-alpha … | 5.350003493 | 8.247836908 | predicted | 4.66093881 |
| AZITHROMYCIN | Bacterial 70S ribosome inhibitor | TAR DNA-binding protein 43 | TARDBP regulates glycolysis in hepatocellular carcinoma by … | 5.350003493 | 8.247836908 | predicted | 4.66093881 |
| AZITHROMYCIN | Bacterial 70S ribosome inhibitor | Transcription factor AP-1 | The AP-1 transcription factor regulates breast cancer cell … – NCBI | 5 | 8.247836908 | predicted | 4.66093881 |
| METILDIGOXIN | | Androgen Receptor | Targeting the Androgen Receptor in Breast Cancer – The ASCO Post | 6.498232935 | 8.317873512 | predicted | 2.885625 |
| CLARITHROMYCIN | Bacterial 70S ribosome inhibitor | Streptokinase A | Amicoumacin A induces cancer cell death by targeting the … – Nature | 7.22184875 | 8.242964275 | predicted | 4.461185566 |
| AZITHROMYCIN | Bacterial 70S ribosome inhibitor | Streptokinase A | Amicoumacin A induces cancer cell death by targeting the … – Nature | 7.22184875 | 8.247836908 | predicted | 4.66093881 |